December 2nd, 2020
Reprinted from Clinton Lindsay / Foundation Radio Network
Being a spiritual person, Jahmark Tafari is a firm believer in divine intervention. Happiness, a song by he and his band The Soulshakers, has endured a challenging year to give them their biggest success since forming over 30 years ago.

The song went number one this week on the Kings of Spins Top 30 Tracks, a list of songs compiled by leading Disc Jockeys in Europe, Asia and Oceana.
In March, the Happiness remix topped the RapAttackLives.com chart, a popular college hip hop table.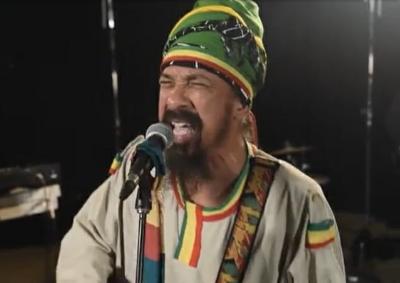 In the age of Coronavirus, this news is more than welcome for the veteran singer.
"Covid come in like a blessing and a curse. Just before Covid, the Happiness remix went to the number one position on the RapAttackLives hip hop college charts. Jahmark & The Soulshakers were gearing up to do a nationwide college tour in the spring of 2020, and then on to the Midem music conference in France for the summer," he disclosed. "Of course, these things didn't materialize in 2020 and in one way I could look at it as disappointment but in another way I look at it as when one door close many more are opened."

Happiness is also the title of the band's fifth album which was released in early 2019. Jahmark and The Soulshakers, who are based in Southern California, had also planned to tour that region to promote it.
Southern California has been the band's base since the early 1990's when they relocated from Jamaica. It is home to their biggest following.
Happiness may not be a mega seller but it has done enough to make Jahmark and The Soulshakers smile in trying times.
"It's not only I who had plans for 2020, the entire world had plans for 2020. Covid slow everyone roll and hopefully the human race is taking in the lessons and truly learning something from it," he said. "Things like love, family, humility, empathy easily come to mind, for we can plan as much as we want but the Most High have the master plan … no matter what the crisis is like the song say, we've got to find a way to make positive positive!"